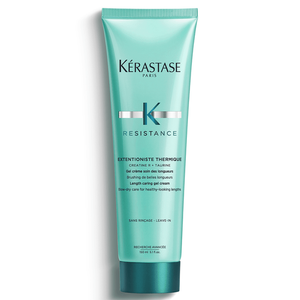 Protect locks from the damaging effects of heat-styling up to 230˚C with the Kérastase Resistance Extentioniste Thermique; a length-strengthening thermal gel-cream that reinforces tresses from root to tip.
After just one application you can achieve up to 93% less breakage.
Infused with the brand's exclusive Creatine R™ complex combined with Taurine, the leave-in treatment goes to new lengths, working to smooth the hair follicles and provide the ultimate in hair endurance.
Creamy and lightweight, it's designed to gently restore hair and detangle without causing breakage.
Ceramides promotes elasticity and moisture retention, aiding in the strengthening of weak, over-processed hair, whilst Maleic Acid helps neutralise pH levels of hair follicles, eliminating dandruff and removing dirt deposits.