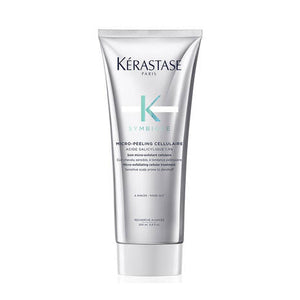 Symbiose Micro-Exfoliating Cellular Treatment by Kérastase is a silicone-free purifying formula enriched with micro-peeling acid and plant-based beads. It instantly exfoliates dead cells and flakes at a biological and visible level, purifying the scalp and soothing discomfort without stripping. After usage, the roots are lifted, and hair revitalised.
The Micro-Exfoliating Cellular Treatment has a very sensorial and luxurious texture with its transparent gel formula enriched with argan & apricot powder shells combined with a luxurious fine fragrance.
Symbiose Micro-Peeling Cellulaire contains 
1.9% Salicylic Acid known to help dissolve flakes and act on consequences of dandruff
To be used prior to your Symbiose Shampoo for optimal results.